Drug Testing – What About Panels?
Standard urine drug testing panels range from 5 drugs to 10 drugs. Specimen validity testing is available to detect adulterants or specimen substitution resulting from a donor's attempts to mask drug use. Expanded profiles for Medical Professional monitoring are also available.

When implementing a drug testing program, it is important to discuss what you will be testing for. Both laboratories and instant testing distributors may offer a variety of test panels. With lab based urine testing, it makes sense to do a 10 panel test because it typically is the same price as a five panel test. Hair testing at a lab is typically limited to 5 panels. With urine based instant testing devices, you can actually test for anywhere from 1 to 12 panels. With oral fluid based instant testing you are limited to seven panels. It is important to determine which drugs your facility needs to test for and then purchase the appropriate panels from the laboratory or the instant test manufacturer.
A typical urine or hair five panel test includes: Marijuana (THC), Cocaine (COC), Amphetamine (AMP), Opiates (OPI) and Phencyclidine (PCP)

A typical urine ten panel test adds the following to the five panel: Benzodiazepines (BZO), Propoxyphene (PPX), Barbiturates (BAR), Methadone (MTD) and Methaqualone (MTQ)

Instant urine testing can also include: Ecstasy (MDMA), Methamphetamine (MET), Tricyclic Antidepressants (TCA), and Oxycodone (OXY)

Expanded panels for medical professional testing may include additional drugs such as Narcotics, antidepressants, stimulants, and other drugs

Instant oral fluid or lab based testing for oral fluid typically tests for five or seven panel:

• Marijuana (THC), Cocaine (COC), Amphetamine (AMP), Opiates (OPI) and Phencyclidine (PCP), Ecstasy (MDMA), Methamphetamine (MET); some labs can also add Benzodiazepines (BZO) and Barbiturates (BAR).

Steroid testing gets even more complicated with many different testing options which can get very expensive, these can include: Anabolic Steroids, Stimulants, Diuretics, Beta Blockers, and Ephedrine

A typical steroid panel for school testing might include: Boldenone (Equipoise), Clenbuterol, Clostebol (Steranbol), DHEA (dehydroepiandrosterone), Epitestosterone, Fluoxymesterone, 6ß‐Hydroxyboldenone, 6ß‐Hydroxyfluoxymesterone, 3'‐Hydroxystanozolol, Methandrostenolone / Methandienone (Dianabol), 19‐Norandrosterone, Oxandrolone (Anavar, Bonavar), Oxymesterone, Stanozolol (Winstrol), Testosterone and THG (tetrahydrogestrinone)
* note that some labs or manufactures may use different abbreviations for the drugs listed above
With all of the various panels available and complex drugs to test for, it is important to choose a vendor who is knowledgeable and experienced. The cheapest price may not give you the best program.

The chart below gives approximate detection times for each substance by test type along with the screening cut off levels. Detection times vary depending on many factors including amount and frequency of use, metabolic rate, body mass, age, overall health, drug tolerance, and urine pH.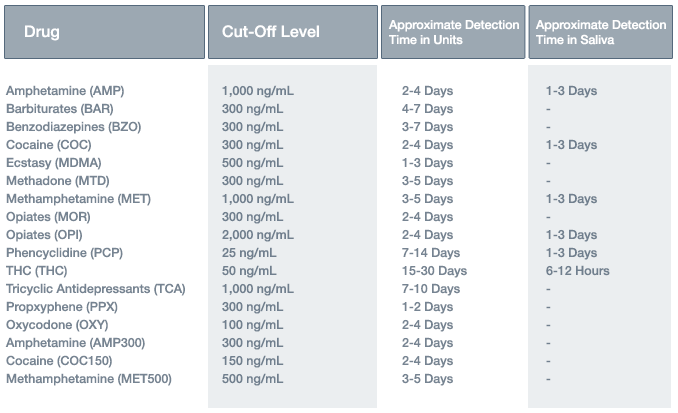 Drug Testing ‐ What Is Chain Of Custody?
"Chain of Custody" refers to the document or paper trail showing the seizure, custody, control, transfer, analysis, and disposition of physical and electronic evidence. For drug testing it is the course of action of documenting the management and storage of a specimen from the moment a donor gives the specimen to the collector to the final destination of the specimen and the review and reporting of the final result.
Any and all drug testing should incorporate a Chain of Custody form and process to insure the integrity of the specimen to be tested. This includes both laboratory and instant drug testing. A multipart Chain of Custody form and other supplies are used to complete the Chain of Custody process. These supplies would include packaging type, seals and other relevant information to be included for verification upon transport and turnover to the respective testing facility. The Chain of Custody form is added onto as the test specimen travels from person to person and this provides for specimen integrity and accountability of a test sample. The Chain of Custody form has been given a status of a legal document for it has the ability to invalidate a specimen that has been tampered with and that does not have the complete information written on it. A broken or mismatched seal on the specimen bottle will also invalidate the specimen being tested. Being a legal document, tampering or mishandling the Chain of Custody form is subject to investigation and subsequent penalization in accordance with the law.

Upon transport, the Chain of Custody form is again updated and again written to as it is received by the test laboratory. Upon reaching the laboratory, the specifics of the test that will be conducted with the time, date and signature of the person processing the sample are written. Upon the conclusion of the tests with the results finalized, this Chain of Custody document is copied and returned to the Medical Review Officer (MRO) for interpretation and conclusion. The MRO will record his final result on the completed Chain of Custody form and may also transport this result electronically using a particular result reporting software. Throughout the process a copy of the form may be retained by the specimen collector, the agency requiring testing, the donor, the laboratory and finally the MRO with this MRO copy having the final result recorded.

All of the processes involving the Chain of Custody document serve as assurance to the test subject that the specimen that was provided was handled and tested in the enumerated procedures outlined in the in the Mandatory Guidelines for Federal Workplace Drug Testing Programs. These guidelines are common to drug testing throughout the United States and provide standards for the testing process. All information including the Chain of Custody form are considered to be highly private and confidential for both federal and private employees, schools and other agencies that require testing. Even the results that are given by the MRO that are documented and reported are considered confidential as part of the stated regulatory guidelines. Specimen integrity and donor privacy are critical.
Hair Testing Available Since 1987
Pros:
There are a number of advantages that hair testing offers over alternative testing methods. They are as follows:
• This is the only testing method that provides up to a 90‐day detection window of drug use, making it an ideal option for pre‐employment and random testing.
• Our hair testing system is FDA‐cleared, and it is an accurate lab‐based test.
• Specimen collection is observed, which significantly reduces the possibility of adulteration or substitution.
• Fast turnaround times are available. Negative results are reported within 24 hours of specimen reception and positive results are confirmed within 48‐72 hours.
Compared with urine specimen testing, hair testing provides nearly twice the number of positive results due largely to a much longer detection window.
Cons:
There are also some disadvantages with hair testing, and it is always important to determine the client's needs and what they are trying to accomplish. Drug Free Workplace policies need to be reviewed, as well as state laws, to make sure hair testing is included in the policy and not prohibited by state law. Some disadvantages of hair testing may include the following:
• Hair testing will not pick up recent drug use up to seven days.
• Hair testing is more expensive than traditional urine drug testing.
• Specimen collection is not as readily available as traditional urine drug testing and can be more costly.
• Donors with no hair pose a problem for hair testing.
Standard hair testing picks up the following drugs: cocaine, THC (marijuana), opiates (including heroin), amphetamines, methamphetamines, MDMA (ecstasy), and phencyclidine (PCP). Additional drugs can be added with special requests, these tests are more costly.
Drug Testing - Information On Random Drug Testing
Our drug testing compliance software treats Random tests differently than other types of tests. In other test types, you tell the computer who is participating. With random testing, however, the computer tells you who is participating. This is done through the Random Selection Process. This software is designed under the premise that the cornerstone of every substance abuse deterrence program is verifiable, unbiased random selection.

When choosing participants for a random test, the computer uses a basic and complete method to insure unbiased selections. It is a double-blind selection method--one in which neither the administrators nor the participants can predict or affect the outcome. The computer does not examine Participant IDs or length of service, nor does it take into account how many times, when, or whether participants have been tested in the past. It is possible that someone chosen for a random test may have just completed a periodic test the day before or was selected in the last random selection. The random element of chance is just what is implied--a random chance.

Sometimes participants challenge a particular random selection or even the entire process. This drug testing compliance software utilizes an exclusive system called RandSel Tracking that records actions that could affect the outcome of any random selection. The RandSel Tracking system has proven itself in every challenge to date.

Random selections are flexible enough for virtually any testing situation. You maintain complete control of the number selected by using a percentage or a fixed number. Reports include "Alternates," "Notification Letters," and "Certification Letters." "Program Statistics" report informs you of YTD information such as average pool; number tested, shortages/overages, and tested percentage.
Our Random Program:
• Provides a consortium feature that makes managing companies a snap-- from two companies to thousands.
• Provides flexible and defensible random selections with detailed audit reports.
• Meets the most stringent DOT reporting requirements, yet flexible and well suited for non-regulated testing.
• Includes a complete set of professional-looking reports for all your reporting requirements.
Our system makes a record of each step taken setting up the random, prints audit trails, notification letters, stores each eligible pool for future statistical analysis. Even creating test results automatically, this secure system eliminates any possible bias that a human being could introduce.

Our Drug Screening provides random testing for your individual company or adds you to one of our random testing consortium pools whereby you are grouped with other smaller companies. The process is simple and turnkey:
Insure your covered employees have a pre-employment test.
Provide us with your list of employees to be added to the random testing pool.
We run the random selections and then provide you with notifications to each employee selected.
You send the selected employees for testing.
The Challenge Of Dilute Specimens
A sample is 'dilute' when added fluid reduces the concentration of a drug or drugs. Fluid can be intentionally or unintentionally added to the body by drinking large amounts of fluid, or intentionally added to the sample by adding fluid to the sample after collection.

Most Laboratories will test for dilution by testing creatinine and specific gravity. Creatinine (a chemical waste molecule generated from muscle metabolism that is eliminated at a fairly steady rate) of less than 20 mg/dl and a Specific Gravity (a comparison between the density of the urine specimen and the density of plain water) of less than 1.003 is reported by the lab as 'dilute'.
NOTE: A dilution should not be confused with adulteration. An adulteration is when a chemical is added directly to a specimen, such as bleach or soda.
Non-DOT Programs
When a urine specimen is "dilute", it is possible that drugs in their system may not be detected. We recommend that an employer have a section in their drug testing policy stating that another specimen be collected as soon as possible with minimum advance notice, this will help prevent intentional dilution. However, the employer may also elect to accept the negative result with the notation "dilute" from the lab. A positive dilute specimen is generally treated as a verified positive test. It is crucial the company policy be consistent and unbiased in all cases.
DOT Programs
A positive dilute is treated like any other positive test. You do not have the employee provide another specimen. There are 2 groups of creatinine and specific gravity for DOT Testing.
1) Creatinine > 5 mg/dl and < 20 mg/dl
The employer may require the donor to submit to another specimen collection. The re-collection cannot be done under direct observation.

If the employer adopts a policy of re-collection for negative-dilute results, all employees must be treated the same. However, the employer may elect to treat different types of tests differently (e.g. re-collect for pre-employment tests, but not for random tests).
2) Creatinine >= 2 and <=5 mg/dl
The employer must direct the donor to have an immediate re-collection under direct observation. This is called a Hyper-Dilute. The second test is the test of record.

For all dilutes, if the second test is also negative-dilute, the employer must accept that result and cannot request a third collection. The second test is the test of record. An applicant/employee's refusal to submit to a re-collection for a negative-dilute result is a refusal to test under the DOT rule.

NOTE: A Creatinine level of < 2 is considered 'Substituted'. If there is no medical explanation the result will be reported as 'Refused'.
The Reality Of Turnaround Time
The amount of time it takes to receive a drug test result can depend on many factors. Negative drug test results typically take no longer than 1 business day from the time the specimen arrives at the laboratory. Non‐negative results typically take 3 ‐ 4 business days from the time the specimen arrives at the laboratory. Statistically, we find our average overall turnaround time for a client is less than 2 business days on negative results.

I use the term typically in order to be realistic, honest and frank ‐ there is lot of human interaction in this process and things can happen. Couriers are involved and the specimens travel via car and airplane as well as with common carriers like DHL, Fed Ex etc. In addition, although a result can be reported as negative it might have tested non‐negative first and had to go on for further testing. Time of collection, weekends, holidays etc also all effect turnaround time, for example a specimen collected at 4:50pm might miss the courier pickup and would not get to the lab for an extra day. A specimen collected on a Friday, might not be tested at the lab until Monday.

Most importantly is that one understands the process:
Specimens are collected at a collection facility or on site at client facility.
Specimens are transported to a laboratory usually reaching the lab after transport from a courier to a plane and arriving at the lab usually the next morning.
Specimens are tested; negatives are released to the medical review office for review and reporting to the client ‐ which is typically the same day as released from the lab.
Specimens testing non‐negative at the lab are sent for retesting under GC/MS confirmation ‐ this is done a day later. These specimens whether negative or positive are now released from the lab for review and reporting to the client ‐ and these that are negative are typically now reported the same day as released from the lab.
On confirmed positive results the MRO must speak to the donor, turnaround time is now a variable of getting the donor to communicate with the MRO which is sometimes a challenge.
The MRO attempts contact with the donor several times each day and will also request assistance if having difficulties. Results received from the lab as positive may take 3 – 4 business days from the time the specimen arrived at the lab.

Every major vendor and every major lab basically perform the same way although some may make promises of quicker turnaround time which may not be the exact truth because of the human interaction involved.

When a result is delayed it is important to find how why so that any avoidable problems can be corrected and not occur in the future. Your drug testing vendor can help you with this, it is always important to have specific examples and details of a delayed result.
For more information on our Drug Testing services, download the following PDFs (Adobe Reader Required):
Supervisor Training Information: Drug/Alcohol Testing Program
Introduction:
This guide will provide you with the information you need to improve the productivity of your staff and protect their health and safety by tackling problems that may arise from alcohol and other drug abuse at your worksite.
This guide is designed to make your job easier. It can be scary and tough to think about addressing alcohol and other drug use among the people you work with. But you don't need to be scared, and you don't have to be tough. Addressing alcohol and other drug abuse in the workplace is first and foremost a conduct and performance issue—an employee who uses or abuses alcohol or other drugs on the job may at some point be an employee whose performance goes downhill. You will see it—and this guide tells you how to deal with what you see.

To ensure that you have the best possible advice, the development of this guide involved discussions with supervisors, foremen, stewards, and managers across the country. You will find, as a result, a clear description of your role in a drug-free workplace program and the steps you can take to make sure the program is successful. In short, it is a guide to help you be the best manager or supervisor possible when handling job performance problems.
Your Responsibilities:
As a supervisor, you have three main responsibilities within a drug-free workplace program:
Know Your Organization's Policy
Review your organization's written drug-free workplace policy. If you don't have a copy, ask your employer for one. Become familiar with what the policy permits and prohibits and the penalties for violating the policy.


Be Prepared to Explain the Policy to Employees
As a supervisor you may be asked to explain the drug-free workplace policy to other employees. Be prepared to answer questions. Most of your employees will welcome a drug-free workplace program, but they will all have questions in the beginning. Below are examples of questions that you may be asked:

What drugs are not allowed? Is alcohol allowed? What actions/behaviors are not allowed? (sale, use, etc.) What happens if someone violates the policy? Are we going to be drug tested? How accurate are drug tests? What happens if I refuse to take a drug test? What happens if someone tests positive? Is counseling or treatment available? Will insurance pay? How is my union involved?

It is best to be ready with answers. If your organization's policy does not address these and other possible questions, ask your employer for the answers. If all questions can be answered, it will help employees to accept and respect the program.


Know Your Role
You are in a unique position to play a major part in a successful drug-free workplace program. You will need to know how to identify and address employee job performance problems. Always keep in mind that while some problems may be related to alcohol and other drugs, others are not. As a supervisor, your role is to observe and help improve employee job performance, to document work problems and successes, and to effectively implement your organization's policies and programs.

You are not expected to diagnose alcohol or other drug abuse or to provide treatment or counseling services to employees with job performance problems.

Rather, your role is to conduct evaluations of job performance problems. Some organizations will have a formal employee assistance program (EAP). This means that there is a counselor available who is trained to assess the cause of employee job performance problems and offer assistance. If your organization has an EAP, find out how to refer employees with job performance problems to that service. Talk to your employer to make sure you understand what is expected of you -- when it is appropriate to refer an employee to the EAP and the procedures to use. Knowing your role in the organization's drug-free workplace program will help you work well as part of the team.
How to be Part of a Successful Drug-Free Workplace Program
The following action steps can help you identify and handle employee job performance problems:
Be Attentive
The sooner a problem is identified, the sooner it can be corrected, especially when dealing with alcohol and other drug abuse. It is important to remain alert to any and all job performance problems such as:
• Rising accident rates
• Increased absenteeism or tardiness
• Decreased productivity
• Deteriorating coworker relationships.
Although these problems can arise for many reasons, including a variety of personal problems, they may also be signs of alcohol or other drug abuse. Don't make assumptions about the reason for a problem: your job is to be aware of problems on the job -- and to make sure that tasks are completed, deadlines are met, and things are running as smoothly as possible. Staying aware of what is happening in your work environment is the first step to doing an excellent job.
Observe
Suppose you see changes in an employee's work patterns or performance, your first step is to watch more closely. For example, you know an employee is making a habit of arriving late, calling in sick a lot, or having mood swings. Has there also been a drop in productivity or an increase in accidents? Remember, it is not your job to figure out the cause of the problem. Your job is to observe employee behavior and determine the effects of those behaviors on job performance.
Changes in behavior may be related to alcohol or other drug abuse; they also may be the result of something else, such as a medical problem like diabetes or high blood pressure. Slurred speech or dizzy spells can be a sign of someone who is high, in need of insulin, or has had a stroke. It is important to call for help if you believe a situation may result in harm to yourself or others. Keep emergency numbers on hand, such as building security and your medical department or EAP.
Document
Job performance problems and other work-related conduct need to be documented. This means a written record should be kept that explains what you see. It should include the names of persons involved, the time, the date, what occurred, names of witnesses, and what actions were taken. Documentation should focus on job performance and should not include your opinions.
Address Job Performance Problems
Once you have documented the job performance problem, you should meet with the employee to discuss what you have seen. Make an appointment at a time and place when you think you will be relaxed and able to discuss the problem without distractions. When job performance problems occur, it is especially important to treat the employee with respect. Your job is to address the performance problem and encourage improvement, not to judge the employee. Be relaxed and maintain a nonjudgmental attitude; this will help keep the lines of communication open, solve the problem, and maintain good management-employee relations.
Many supervisors report that starting a conversation with an employee about a performance problem is often the most difficult step. You may feel unsure about what to say or how to say it. Or you may find yourself wanting to avoid the discussion altogether. The information that follows will help you take the first step.
How to Begin and End a Conversation
Supervisor:
Sarah, I want to talk with you about my observations regarding your work. You have been a good employee in the past, but lately I've noticed changes in your work performance. I want to make you aware of my concerns and hear from you as well, because it is important that you correct the problems as soon as possible.
Employee:
Well, I've just been tired lately . . . I know I've been late a couple of times.
Supervisor:
(Refer to specific documentation of Sarah's job performance in the past month). Actually, you have been late 10 times in the last month, your productivity is down 25 percent, and you have called in sick 3 times in the past 3 weeks, always on a Monday or Friday. Has anything about your job changed that could explain these problems?
Employee:
What do you mean?
Supervisor:
For instance, are you having trouble with a specific job-related task or routine or with a coworker relationship that would cause you to be late or cause your productivity to be down?
Employee:
I don't think so. I mean there are certain people I don't really get along with, but that's not what makes me late. I've been having problems at home. I guess it has been affecting work more than I thought. I get the message. I'll try to do better.
Supervisor:
Sarah, it is important that your work performance improve. I will give you 2 weeks to correct the behaviors I mentioned before taking further disciplinary action. In the meantime I will remind you that the employee assistance program is available to you if you need help with personal problems that are affecting your job performance. When we meet again 2 weeks from Thursday, we will review your job performance again. Between now and our next meeting I expect you to be present at work and on time every day. If your attendance and tardiness do not improve, we will discuss further disciplinary actions.
Note for Supervisor:
(Further disciplinary action may include referring the employee to the EAP again, or to some other source of help in the community. Again, it is important that you follow the guidelines established by your employer as to how you should handle referrals.) It also is essential that you prepare a written summary of this meeting that includes the follow-up plan you made with the employee, then conduct the follow-up as scheduled.
What to do if the Conversation Goes Off Track
Employees often become defensive when their supervisor draws attention to a job performance problem. The employee may cry, show anger, or make excuses to take the focus off the real issue -- job performance. When an employee becomes defensive, it is especially helpful to stay focused on job performance and conduct. While it is important to be understanding, it is not your job to counsel the employee about his or her personal problems. The goal of your meeting is to discuss and find solutions to the job performance problem.
Barriers and How to Handle Them
Confronting an employee about a job performance or conduct problem is not easy. No one can tell you how an employee will respond. Sometimes an employee may become upset with you, hoping this will make you back down from the confrontation.
Being aware of potential barriers is the best way to decrease the chance of a negative reaction. The information below provides guidance for how to respond to some of the most common barriers.
Barriers That Arise When Addressing Employee Problems
Denial
The employee denies that problems exist and insists that the supervisor or someone else in the company is out to get him or her.

How To Respond:
Stay calm. Have at hand documentation of the employee's job performance and/or conduct and keep the conversation focused on performance issues.
Threats
The employee threatens you or the organization.
"If you push me, I'll go to an attorney . . . make a scene in the plant . . . quit here and now ...."

How To Respond:
Remind the employee that he or she may do whatever he or she chooses; however, as a supervisor your responsibility is to uphold the organization's policy and find a solution that will help both the organization and the employee. If you think you are losing your objectivity or need help to resolve a conflict with a defensive employee, seek the help of another supervisor or manager.
Rationalization
The employee tries to avoid the issue by making excuses.
"If this job wasn't so stressful, I wouldn't be making so many mistakes and wouldn't be late so often."

How To Respond:
Stay focused on work performance. Avoid being distracted by excuses; let the employee know that help is available.
Angry Outburst
The employee becomes angry. He or she may cry, yell, or scream. This emotional outburst is intended to scare off the supervisor and cause him or her to drop the whole affair. (In a shouting voice with arms raised) "How dare you accuse me of being late to work and not getting my deliveries made on time!"
How To Respond:
Do not react! Wait until the employee has run out of steam and then continue where you left off; keep the focus on performance issues. If the employee continues to carry on, reschedule the meeting.
Be Consistent
Regardless of your personal relationship with an employee, it is important to treat each person the same when addressing job performance and/or conduct problems. This is not always easy to do. By following your organization's procedures, you avoid playing favorites. This protects you from being accused of discrimination and can help your relationship with the people you supervise.
Maintain Confidentiality
All discussions of an employee's job problems should be held in private. No one else should be able to hear the conversation. If employees choose to tell coworkers about their private concerns (e.g., results of a drug test), that is their decision. However, when an employee tells you something in confidence, you are obligated to keep it between the two of you.
Be "up front" with the employee at the beginning of the meeting. If your employer requires that you report what will be said, it is important that you inform the employee before you begin the meeting. Although not a common problem, you could be sued if you disclose what is said in the meeting without the permission of the employee. Respecting employee confidentiality is critical to developing a trusting relationship with the people you supervise.
Follow-up
Taking follow-up action is a key part of your role in your organization's drug-free workplace program. Follow-up means that you continue to observe and document the employee's job performance and conduct. Follow-up ensures that the employee keeps to the agreement and that improvements are made. Before your follow-up meeting(s) with the employee, review the employee's progress and decide what steps to take from there.
If the employee's job performance and/or conduct has improved, no further disciplinary action needs to be taken. However, you should continue to monitor his or her progress until you are sure the performance problem is resolved completely.
If job performance or conduct has not improved as agreed, or if the employee refuses to acknowledge or correct his or her behavior, document these events and tell the employee the actions that you will take next. Inform the employee that help is available.
You may not know if an employee is in treatment for an alcohol or other drug problem. However, if an employee tells you that he or she is seeking help, support the recovery process but do not "enable."
Note:
Being in treatment is not an excuse for poor job performance. Your responsibility is to make sure employees do a good job. Protect yourself and the employee's rights by consistently following your organization's disciplinary procedures if an employee's job performance or conduct does not improve.
Other Issues
Reintegrating an Employee After Treatment
Returning to work after or during treatment for alcohol and other drug abuse can be stressful. You can help lessen this stress by assuring the employee that you will maintain confidentiality and by carrying on with business as usual.
Employees who return from inpatient treatment or who are enrolled in any type of outpatient treatment program need to know that they will be held accountable for their job performance and conduct. Clear guidelines should be established regarding how the employee's progress will be monitored. For instance, the employee needs to be informed about periodic follow-up reviews, drug testing (if applicable), and in general, how your organization will handle his or her return to work (if the employee was away at an in-patient program).
You may or may not know if an employee is attending an outpatient treatment program. Most employees are able to maintain a regular work schedule while receiving treatment during nonwork hours. However, sometimes employees will need time off from work to pull themselves together physically, even if they are not hospitalized. If an employee attends an inpatient treatment program, an intensive day treatment program, or any other type of counseling that will interfere with his or her regular work hours, you may need to know more about the situation, such as when and for how long the employee will be away from work.
In 1992 the Americans With Disabilities Act (ADA) became law. There are certain provisions ["reasonable accommodations"] with which employers must comply when an employee is in treatment for alcohol or other drug addiction. The ADA defines "reasonable accommodation" to mean, at least, a flexible work schedule so employees can attend treatment-related meetings (e.g., aftercare, support groups, counseling sessions). For more information about the ADA, call 1-800-669-EEOC.
It is important that you understand what the employee needs as well as what your employer expects of you in this situation. You will want to be able to support the employee as he or she resolves any performance problems, but you must also ensure that your employer's expectations are met and that you follow your organization's policy.
Back-to-Work Conferences
If the supervisor has been informed about an employee's inpatient or intensive day treatment process, a back-to-work conference is often scheduled at the time an employee is discharged from treatment. This meeting usually includes the employee, his or her counselor, and the supervisor or another company representative. Sometimes a union representative will want to be included in the meeting, if applicable.
The purpose of a back-to-work conference is to ensure that the employee knows the employer's expectations once the employee returns to work. These expectations are often explained in a written contract that the employee signs. The recommendations of the treatment center staff are usually incorporated into the contract to ensure that the employee continues to stay free of alcohol or other drugs.
Union Agreements
If you are subject to a collectively bargained agreement, you will need to comply with that agreement. If you are unsure of the terms as they relate to your drug-free workplace program and/or your role, ask your employer or business agent to explain this to you, or obtain a copy of the agreement.
Your Beliefs About Alcohol and Other Drug Abuse
Despite the fact that the American Medical Association defined alcoholism as a treatable disease in the early 1950s, many people still believe that people with alcohol and other drug problems drink out of brown paper bags, live on the streets, and/or cannot hold a job. These beliefs are myths. Most alcohol and other drug abusers have nice homes, steady jobs, and do not drink out of brown bags.
As a manager, it is important to be aware of your own beliefs about alcoholism and other drug problems so that they do not interfere with your job. As with any other managerial responsibility, personal beliefs and prejudices will need to be put aside.
Employees Who Report to Work Unfit For Duty

If you are not sure how to manage an employee who reports to work unfit for duty, ask your supervisor for advice and follow your organization's policy. In general, it is advisable that you have two management staff members verify that the employee is not fit to do his or her job. Document the conduct problems as objectively as possible. If there is a human resources or safety person in your organization, he or she should be notified and consulted about the situation. If all of the management personnel involved decide that the employee is not fit to do his or her job, the employee should be sent home via public transportation or with a family member, or be escorted home by another staff member. Do not let the employee drive home if he or she is not fit to perform the job. The manager should then decide, based on the organization's policy, the disciplinary actions that should be taken.
Alcohol or Other Drug Abuse of a Boss or Supervisor
Alcohol and other drug abuse and addiction are serious illnesses that affect people in all walks of life, in all types of jobs, and of all ages. The issue is especially touchy when it is your boss who is having a problem with alcohol or other drug abuse. Handling alcohol or other drug abuse of an employer or another supervisor requires careful thought, and your response will depend on your relationship with him or her.
It is not advisable to confront the situation on your own. Seek the help of another manager or a professional who can advise you about your options, or ask for help from your company EAP. Some addictions professionals are trained to help family members and friends learn about intervention—a structured form of offering assistance. An addiction treatment center in your community probably has a staff member who is trained to do intervention.
What to do if you find Illegal Drugs at Work
Use caution. Review your organization's policy to see if guidelines have been established for how to handle these situations. Do not discard or transport the drugs yourself. Seek the help and guidance of another supervisor or manager. Contact your local police department.
Supervisor Training
Supervisors can play a central role in an effective drug-free workplace program. More than anyone else in the organization, they are in a position to recognize changes in an employee's job performance. The role of supervisors is very important.
In smaller companies, the employer and the supervisor may be the same person. Whatever the size of your organization, review this Supervisor's Guide, as it will help you to conceptualize your program and ensure that you and your staff focus on job performance as opposed to personal issues.
Training supervisors to assist in implementing a drug-free workplace program can be an effective management tool. It can help them to be better supervisors, and it can help employees be more accountable for their job performance.
The Supervisor's Role
Supervisors have a variety of responsibilities within a drug-free workplace program. Supervisors should:
Know the organization's program and policy, including the rationale for the program and specific details about drug testing procedures, if applicable, as well as other components
Be able to explain the program to employees
Know where to refer employees for help and information
Understand and accept the importance of supervision as a tool for implementing the policy -- recognizing that the supervisor is the best judge of employee performance.
Supervisors are not expected to provide substance abuse counseling. Neither should they try to diagnose alcohol or other drug problems. If a supervisor suspects an alcohol, drug-related, or other problem, particularly as evidenced by poor job performance or conduct, the employee should be referred for professional evaluation and assistance.
The Supervisor: Enforcer or Advocate?
Because an important responsibility of supervisors is to observe and evaluate employee job performance, they can be effective advocates for employees. They can encourage employees to deal with work-related problems that may or may not be connected with alcohol or other drug use. They also can suggest sources of help and support, such as an employee assistance program (EAP) or local treatment program, when an employee has problems. If an employee has been given a chance to improve job performance but hasn't changed his or her behavior, the supervisor may need to take a more forceful approach. Still, the emphasis should be on improving the employee's job performance, not on judging the employee.
What Supervisors Need To Know
All supervisors should be provided with basic information about the program and their role in carrying it out. This includes:
The rationale and specific details of the program startup and implementation
The supervisor's specific responsibilities for initiating and carrying out the drug-free workplace policy and program
How to recognize and deal with employees who have job performance problems that may or may not be related to alcohol or other drugs, including personal and family problems.
Guidelines For Effective Supervision
Be attentive. Be ready to recognize employee problems (e.g., accidents, frequent lateness, mood swings) that may or may not be related to alcohol or other drug abuse.
Observe. Focus on specific aspects of job performance.
Document. Keep an ongoing record of the employee's performance.
Be thoughtful. Stay nonjudgmental and recognize the employee's point of view.
Be straightforward. Stick to the facts of job performance; don't get sidetracked.
Substance Abuse: Symptoms and Intervention
If substance abuse could be contributing to an employee's deteriorating performance, ignoring the situation won't help. It may be the employee who has an alcohol or drug problem or it may be a family member. No matter who has a problem, it will likely only get worse and have costly—and possibly disastrous—consequences for everyone unless some action is taken.
Recognizing the Symptoms
Clinical diagnosis of an alcohol or other drug problem is not the job of the supervisor, but work performance is. A key part of every supervisor's job is to remain alert to changes in employee performance and to work with employees who are having problems so that performance improves.
The following list of performance and behavior problems are common to many substance- abusing employees. However, it is important to remember that these symptoms do not necessarily indicate that the employee has a substance abuse problem.
Performance

Inconsistent work quality
Poor concentration
Lowered productivity
Increased absenteeism
Unexplained disappearances from the job-site
Carelessness, mistakes
Errors in judgment
Needless risk-taking
Disregard for safety
Extended lunch periods and early departures
Behavior

Frequent financial problems
Avoidance of friends and colleagues
Blaming others for own problems and shortcomings
Complaints about problems at home
Deterioration in personal appearance
Complaints and excuses of vaguely - defined illnesses
When and How to Intervene
When an employee's performance begins to deteriorate for whatever reason, the supervisor has the right and responsibility to intervene. The supervisor does not need to be an expert on alcohol and other drugs to intervene appropriately if substance abuse is suspected; the intervention should be focused on the performance problem.
Principles of Intervention:
Maintain control of the conversation
Stick to the facts as they affect work performance
Don't rely on memory; have all supporting documents and records available
Do not discuss alcohol or drug use
Be clear and firm

Explain company policy concerning performance
Explain company substance abuse policy
Explain consequences if performance expectations are not met
Be supportive but avoid emotional involvement

Offer help in resolving performance problems
Identify resources for help in addressing personal problems
Illicit Drug Users Hold Full‐Time Jobs
According to a study released in 2007, the majority of the US's approximately 16.4 million illicit drug users and 15 million heavy alcohol users hold full‐time jobs. The study also found that drug users and heavy drinkers were more likely to have higher levels of absenteeism and more job changes. "Worker Substance Use and Workplace Policies and Programs," was administered by the Substance Abuse and Mental Health Services Administration (SAMHSA) of the Department of Health and Human Services (HHS). The findings are based on data collected from 128,000 persons from all 50 states aged 18 – 64 over three years.
Of the total 16.4 million illicit drug users, approximately 9.4 million of them (including 7.3 million marijuana users) held full‐time jobs. Of the 15 million heavy drinkers, 10.1 million were employed full‐time. "Heavy" alcohol use was defined as having more than five drinks on one occasion more than five times in the past month. Additionally, the study found that 3 million of full‐time workers who used illicit drugs met criteria for dependence or abuse. 10.5 million were dependent on or abused alcohol.
One of the study's key findings relate to worker performance. 12.3 percent of drug users, compared to 5.1 percent of 'clean' workers, said they had worked for three or more employers in the past year. Furthermore, 16.4 percent of drug users, versus 11 percent of non users, reported missing two or more days of work in the past month.
"Employees who use drugs miss work more often, are less healthy and are more prone to harming themselves and others in the workplace," said John Walters, Director of National Drug Control Policy. "We hope that employers will take note of this report and consider implementing workplace drug testing policies that can help prevent drug use before it starts, help identify drug‐using employees who need drug treatment services and also reduce employers' liability from drug‐related workplace accidents," he said.
Some industries had more drug users than others. Food service workers reported the highest percentage of drug use, 17.4. Construction workers were second with 15.1 percent. The report did note that certain factors can influence why some industries have a higher percentage than others. For example, food industries tend to have more young workers because the job requires less experience and skills.
Heavy alcohol was highest in construction, mining, excavation and drilling workers (17.8 percent), and installation, maintenance, and repair workers (14.7 percent). "The high rates of drug and alcohol use in hazardous industries is cause for concern," said Elena Carr, drug policy coordinator at the U.S. Department of Labor (DOL). "Clearly businesses can ill‐afford the risk of having workers operating meat slicers, backhoes, or other dangerous equipment while under the influence of alcohol or drugs, which is one reason why DOL helps employers and employees work together to proactively prevent such safety hazards."
We offer a number of products and services that can help you implement and/or administer a Drug Free Workplace Program. Employers must know that those who do not provide drug testing for all applicants may end up hiring an illegal drug user. Drug‐Free Workplace programs are available for companies of all sizes and industries, regardless of location.
Your Employee Tested Positive…What Now?
One of the biggest questions an employer has about his/her drug testing program is what to do if an already existing employee tests positive on a drug test. Fortunately, many small employers with on‐going drug testing programs have not experienced this situation. If an applicant tests positive, the process is very straightforward – the job offer is cancelled and the candidate is not hired. However, sometimes a random or post‐accident test on an existing employee comes up positive, and this can cause you stress and anxiety. In order to deal with this situation fairly, and to avoid any legal or liability ramifications, it is important that you follow the steps to the letter while enforcing your policy for a positive test.
It is important to understand the entire procedure a urine specimen goes through to determine a positive result. First, the specimen is collected under strict chain of custody procedure. Then, the laboratory performs an initial screen on the specimen followed by a confirmation test (if needed). Finally, the test result goes through an extensive medical review process by a physician who is certified as a Medical Review Officer (MRO). During the MRO process, the physician attempts to speak to the donor, although the donor can refuse to speak to the physician. This interview informs the donor of the positive drug test, gives the donor an opportunity to present a legitimate medical explanation, and instructs the donor that a retest of the original specimen is available if the donor feels that the laboratory made an error. In some cases, the employer may pay for this retest; in some cases the employee must pay for it. Either way, it is an expensive process where the specimen must be transported to another independent SAMHSA certified laboratory for the retest. In most cases, if the donor is required to pay for the retest, s/he will decline this option. Keep in mind that a retest does not mean the donor can go back to the collection site to give another specimen.
When you receive a positive drug test result for one of your employees, you can be sure that the result has been screened and confirmed by the lab and then reviewed and verified by the Medical Review Officer. This means that this result is a bona fide positive result and no further discussion or explanations from the donor are acceptable (this includes second hand smoke). If you do have questions or concerns, you should discuss them only with the MRO office.
Your first step when receiving a positive result is to review your company policy to determine disciplinary action. Many policies call for immediate termination, some allow for the employee to seek assistance for the drug abuse problem. It is critical that you follow the policy to the letter and that your actions and decisions remain consistent from one employee to the next. Always provide your notification of the positive result and the appropriate consequences to the employee in writing. Depending on whether you have a DOT program, State Law Specific Program or non‐regulated program – there may be additional steps to take.
DOT Regulated Companies
A positive test result on a DOT drug test is a distinct violation of the DOT drug and alcohol testing regulations. As an employer who receives a verified positive drug test result, you must immediately remove the employee involved from performing safety‐sensitive functions. You must take this action upon receiving the initial report of the verified positive test result. Do not wait to receive the written report or the result of a split specimen test. The employer must not return the employee to the performance of safety‐sensitive functions until or unless the employee successfully completes the DOT required return‐to‐duty process which includes an initial evaluation by a Substance Abuse Professional (SAP), a course of action prescribed by the SAP and a follow‐up evaluation by the SAP. Complete guidelines for the SAP process can be found in the DOT Drug & Alcohol Testing regulations ‐ 49 CFR Part 40 Subpart O ‐ Substance Abuse Professionals and the Return‐to‐Duty process.
Employers must provide to each employee (including an applicant or new employee) who violates a DOT drug and alcohol regulation, a listing of SAPs readily available to the employee and acceptable to you, with names, addresses, and telephone numbers. You cannot charge the employee any fee for compiling or providing this list. You may provide this list yourself or through a C/TPA or other service agent. This must be done even if you are terminating the employee.
For donors that wish to challenge a positive test result, the opportunity for a split specimen retest is required under DOT regulations. The donor is notified of this option by the MRO and requests this retest through the MRO. The request must be made within 72 hours of the MRO notifying the donor of the positive result and opportunity of split specimen retest. If the MRO receives the request for a retest of a DOT split specimen, the MRO shall notify the lab immediately without concern for who is paying for the test. Company policy should clearly specify the payment responsibilities of a split specimen retest.
Non-Regulated Drug Testing Programs
In the absence of specific regulations or guidelines, it is recommended that all options be clearly outlined in the company policy and followed carefully. It is advised that written notice of a positive test result along with the consequences of the positive test result, and the employee's available options be provided within 5 working days after the receipt of the MRO's confirmed positive result. Specimen retesting should also be an option for the donor.
Helplines for Employees
To Locate a Qualified Substance Abuse Professional (SAP) contact:
Reed A. Morrison, American Substance Abuse Professionals, Inc.
711 West 40th Street, Ste 235
Baltimore, MD 21211
Phone - 888-792-2727
Fax - 410-889-6234
E mail - reedm@go2asap.com
The following organizations and resources provide free, confidential assistance to individuals who have, or know someone who has, a problem with alcohol or other drugs.
Substance Abuse Treatment Locator: This Substance Abuse and Mental Health Services Administration (SAMHSA) Web site and toll-free phone line help individuals locate drug and alcohol abuse treatment programs in their communities.
www.findtreatment.samhsa.gov | Phone: 1-800-662-HELP
Al-Anon/Alateen: Al-Anon provides information on the effects of alcohol abuse and refers friends and families of alcohol abusers to nearby support groups. Al-Anon's purpose is to help families and friends of alcoholics recover from the effects of living with the problem drinking of a relative or friend. Alateen is the organization's program for young people whose lives have been affected by someone else's drinking.
www.al-anon.alateen.org | Phone: (888) 4AL-ANON
Alcoholics Anonymous (AA): AA offers a way to stop drinking to individuals who feel they have a problem with alcohol. AA groups are located in most cities and rural communities throughout the country. Look up "Alcoholics Anonymous" in a local telephone directory for a contact in your area.
www.aa.org | Phone: (212) 870-3400
American Council on Alcoholism: This service provides referrals to alcoholism treatment programs nationwide and distributes written materials on alcohol abuse problems.
www.aca-usa.org | Phone: (800) 527-5344
Nar-Anon: This worldwide program provides support for friends and families of individuals with substance abuse problems.
www.nar-anon.org | Phone: (800) 477-6291
Focus on Recovery Helpline: This helpline provides support and information for recovering drug addicts through referral to local helplines staffed by other recovering addicts.
www.focushealthcare.com | Phone: (800) 234-0420
National Council on Alcoholism and Drug Dependence Hopeline: This organization, a planning and oversight agency for public substance abuse treatment programs, provides written information on alcohol and drug abuse and referrals to treatment and counseling services nationwide.
www.ncadd.org | Phone: (800) NCA-CALL
Click here to download the Reasonable Suspicion Documentation Form
How Can I Become a Collector For DOT Drug Testing?
How do I become qualified to be a collector?
To become qualified as a collector, you must be knowledgeable about Part 40 regulations, the current "DOT Urine Specimen Collection Procedures Guidelines," and DOT agency regulations applicable to the employers for whom you will perform collections, and you must keep current on any changes to these materials. You must also (1) successfully complete a qualification training program and (2) pass a monitored proficiency demonstration, as required by DOT regulations [See 49 CFR Part 40.33 (b-c), effective August 1, 2001]. Please note: there is no "grandfather" clause or waiver from this requirement.
A collector's qualifications are not location/collection site specific, and their eligibility will follow them anywhere DOT Agency regulated urine specimens are collected.
There is no requirement for qualified collectors to register or to be on any federally-maintained or federally-sponsored list, but they are required to maintain (for Federal inspection) documentation of successful completion of their training and proficiency demonstration requirements.
Do I need to become "certified" to conduct DOT urine collections or operate a DOT collection site for drug testing?
No, DOT does not require "certification" of a collector or a collection site before they can collect urine specimens for DOT drug tests. In fact, only individual collectors (not collection sites) may become qualified to collect DOT urine specimens.
What should be the content of the qualification training program and who may conduct it?
While the Department has not published a curriculum for urine collection training, the DOT expects trainers to base their curriculum on both DOT regulations and the latest version of DOT's publication, "Urine Specimen Collection Guidelines". (Information on how to access the latest copy of the DOT regulations and the collection guidelines can be found in the last question of this document.)
The qualification training [See 40.33(b)] must contain the following elements:
Qualification Training:

Knowledge about Part 40 collection procedures
All the steps necessary to conduct a proper collection
How to properly fill out a federal collection form (Custody and Control Form, or CCF)
How to handle problem collections (shy bladder, attempts to tamper with the test, etc.)
Information about fatal and correctable flaws in collections and collection paperwork
The collector's responsibility for maintaining the integrity and credibility of the collection process, privacy, and specimen security.
Anyone can provide the qualification training described above. The trainer does not need to be an experienced or qualified collector, or the same person who oversees the proficiency demonstration, or be a person at all (such as in an internet course, for example). The course material may be taught in person, conducted by video, by computer programs, via the internet, by video conference, or by other equivalent means. Also, there is no mandatory time requirement for this portion of the training.
Although an examination is not required, to demonstrate compliance with the qualification training requirement, it is recommended that the course have built in some means of ensuring that the information has been successfully learned.
What should be the content of the collector proficiency demonstration and who can conduct it?
After successfully completing the qualification training program, the collector-to-be must then complete five consecutive error-free mock collections under the direct observation of a qualified monitor. [See 40.33(c)]
The five mock collections must include the following types of collections, in any order:

2 uneventful/routine
1 covering an insufficient quantity of urine
1 covering a temperature out of range
1 covering a refusal to sign the CCF paperwork and initial the bottle seal
These mock collections are intended to portray a real event conducted with someone (possibly even the instructor) acting as the donor. The collections must be directly observed in real-time by the instructor or clearly able to be monitored in real-time through a video link or equivalent and allow direct interaction between instructor and trainee [See 40.33(c)(2)]. The use of a "check list" during the mock collections would be acceptable if the use of a check list was part of the training the collector received and was to be used in real-life collections.
The proficiency monitor/evaluator must be an already qualified collector who either has also been conducting DOT collections for at least a year, conducted Part 40 collector training for a year, or has successfully completed a train-the-trainer course. This person must also attest in writing that the mock collections were error-free. [See 40.33(c)(2)]
What kind of documentation must I keep to show that I'm qualified?
Most organizations/trainers should provide you with a certificate upon successfully completing the entire course. However, collectors must be prepared to document to DOT Agency inspectors, employers, and employer designated service agents who may contract for their services (such as C/TPAs) that they are currently eligible to collect DOT specimens. [See 40.33(g)]
On request, you must be prepared to provide sufficient detail on the content of the training and proficiency demonstration so that the Federal Inspector can be confident that you fully met the requirements of the regulation. Examples may include training graduation certificates and/or letters signed by the qualified trainer/observer indicating you attended and successfully completed the course.
Do I have to go through refresher training?
Yes. Each qualified collector must go through refresher training every five (5) years in order to remain eligible to collect DOT specimens. [See 40.33(e)] The content of the refresher training must be the same or equivalent to your initial training and proficiency demonstration content. It is expected that you stay current with any changes to the DOT regulations and not wait for the refresher training to learn about them.
Does DOT offer collector training?
DOT does not offer collector training, maintain lists of training programs or qualified trainers; nor does it approve, certify or recommend the training programs of any organization or entity. Collection sites may conduct their own training or solicit an outside organization or entity (e.g. professional training service) to do its training. To find such a training service, you may search the yellow pages, the internet or contact industry associations or organizations.
Once I'm qualified, how do I get business?
Becoming a collector was a business decision. As such, you will need to grow your business according to your business model/plan. Transportation trade shows, the internet or the local yellow pages are a good place to start looking for DOT regulated clients.
Where can I get more information on the collection regulations, guidelines for collectors and other DOT regulations?
Visit DOT's Office of Drug & Alcohol Policy & Compliance (ODAPC) website at www.dot.gov/ost/dapc/. From the home page you can link to the "Urine Collection Personnel" page which will not only give you direct access to those sections of Part 40 that cover collectors and collection procedures, but will also allow you to download the latest copy of Part 40 and the collection guidelines.
DOT's 10 Steps to Collection Site Security and Integrity
Pay careful attention to employees throughout the collection process.
Ensure that there is no unauthorized access into the collection areas and that undetected access (e.g., through a door not in view) is not possible.
Make sure that employees show proper picture ID.
Make sure employees empty pockets; remove outer garments (e.g., coveralls, jacket, coat, hat); leave briefcases, purses, and bags behind; and wash their hands.
Maintain personal control of the specimen and CCF at all times during the collection.
Secure any water sources or otherwise make them unavailable to employees (e.g., turn off water inlet, tape handles to prevent opening faucets, secure tank lids).
Ensure that the water in the toilet and tank (if applicable) has bluing (coloring) agent in it. Tape or otherwise secure shut any movable toilet tank top, or put bluing in the tank.
Ensure that no soap, disinfectants, cleaning agents, or other possible adulterants are present.
Inspect the site to ensure that no foreign or unauthorized substances are present.
Secure areas and items (e.g., ledges, trash receptacles, paper towel holders, under-sink areas, ceiling tiles) that appear suitable for concealing contaminants.